Interactive Media Studies was established in 2001, with a million dollar grant from Procter & Gamble. This money enabled the then fledgling program to hire a founding director, Glenn Platt, create additional courses, and establish a thematic sequence and minor in Interactive Media. During the following years, various faculty worked to develop an additional minor in game studies, a co-major and a BA in Interactive Media Studies. In 2007, C. Michael Armstrong, former CEO of Comcast, generously gifted the program with a $15 million dollar endowment, transitioning the Interactive Media Studies program into the Institute for Interactive Media Studies (IMS). Today, the program has grown to include graduate work, with a graduate certificate, a proposed MS, and our collaborative MFA in Experience Design.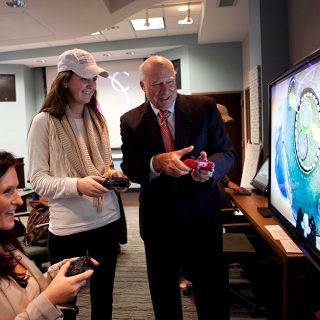 IMS examines how digital technology is transforming traditional areas of inquiry, across all the disciplines.IMS is committed to rich interactive experiences that empower individuals and organizations to experiment, innovate, and collaborate, while preparing students for the challenges and opportunities that interactive media present.
IMS seeks to overcome existing barriers to creativity and interaction that are imposed by geography; the mediums of delivery, exploration, and creation; and institutional structures. Faculty are involved in cutting edge research and application, engaging Miami students in significant global academic and market projects, online and in real-time. IMS is trans-disciplinary, fusing teaching, research, and service into expansive, yet individualized learning.
We believe this approach creates a learning environment where artists, designers, developers, business strategist, writers, and new media communicators learn to work collaboratively, with respect, to build solutions to important problems.