Applied Experience Design: Walt Disney World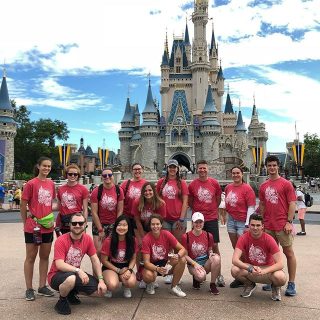 The Walt Disney World Resort in Orlando, Florida is a place where experience design can be observed in many different forms. Disney uses imagery, sounds, services, branding, built environments and even smell to create immersive stories that enable guests to make memories. The high degree of attention to detail at Disney Parks and Resorts promotes ease of use for guests of all ages from cultures around the world. From transportation to theme park attractions, experience design methods can be studied in a living laboratory that happens to also feature ice cream treats.
Applied Experience Design: Walt Disney World is offered every summer. The first two and a half weeks of the course take place online, where learners develop familiarity with principles of design disciplines including interaction, service, interior, visual communication design, and architecture. During this online portion of the course, learners also study major concepts in human behavior, systems, and communication theory. This learning is interwoven with an intense study of theme park design, driven by content developed by Disney Imagineers.
During the third week of the course, students spend five days at the Walt Disney World Resort studying design in action while practicing non-intrusive design research methods. On-site activities include a backstage tour, daily "Ride & Recaps" and lots of time for self-driven experiences and study all over the Walt Disney World Resort. The course culminates with a week of online collaboration to compile an experience design compendium. This document brings each learners' experiences together into a reference tool to guide design work in their future careers at varying scales.
Join us for the fun as we study ways Disney creates magic for diverse audiences every day at the Walt Disney World Resort! Learn more and register at Miami University's Study Away programs website.