Once every semester, students and faculty meet at a different destination for an immersive, long weekend of studying design in context.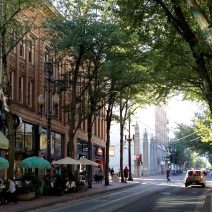 Design doesn't come to life in the office or studio. It happens on city streets, in restaurants, and on handheld screens. That means in order to learn about how design affects people you have to go where they intersect. Destination weekends are a time when xdMFA students meet at a compelling location for days of observations and learning in the places where design planning becomes reality. Locations in the eastern and western United States are being planned. At the conclusion of the weekend, learners will present their work to the xdMFA cohort. This presentation will allow those working on their thesis to share findings and get feedback, and will enable others to learn about this process first-hand.
Destination Weekend Schedule
Each destination weekend will involve some structured class time, though most of the time learners will be observing, researching, recording, and developing solutions based on the context of the visit. Here's a sample schedule for our destination weekends.
Thursday

All Day
Arrival
9 pm
Introduction Meeting: Getting Bearings
1 hr

Friday

Morning
Observations
Afternoon
Collaborative: Research and Context
3 hrs

Saturday

Morning
Stand-up Meeting: Final Day Plans
1 hr
Afternoon
Charrette: Research-Informed Design and Innovation
1.5 hrs
Afternoon
Final Reports
1.5 hrs

Sunday

All Day
Depart
Destinations
We're planning some great learning experiences that will take place all over the United States. Here are all of the planned destinations, dates, and why each place is important for Experience Design.