Interactive Media Studies
Learners have access to experts and learning in game design, user experience, digital ethics, and virtual reality through IMS, including an optional semester-long San Francisco program.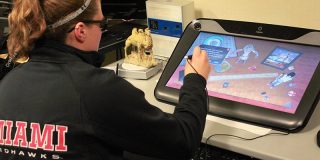 Institute for Interactive Media Studies is a cross-disciplinary institute that works with students and faculty from across Miami University offering undergraduate, graduate certificate and graduate programs exploring the intersection of technology, design business and how digital technology is transforming traditional areas of inquiry. IMS is committed to preparing students for the opportunities that interactive media present through hands-on, interactive and project-based courses and experiences where students are encouraged to experiment, innovate and collaborate.